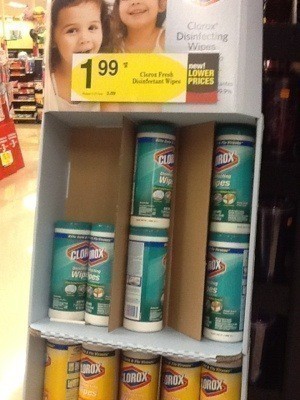 If you haven't yet grabbed this coupon.. it's still available. A little tricky to get, but if you can print, it'll score you cheap Wipes. This is a great item to donate to your child's classroom.
head over to the Clorox Site, and click the picture above "See Today's Word"; scroll down a bit and you'll find a coupon for $.75/1 ANY Clorox Product.
You can print two – it should score you the Clorox Wipes at Fry's for $.99 (after coupon).. they are priced $1.99.. prices do vary.
Clorox Wipes, Tub $1.99
$.75/1 ANY Clorox Product.
= $.99
You should be able to grab 2 from each computer — they had plenty at my store on the shelf, and in a standing display. You can also grab the 10 pk "To-Go" for $.29 if you prefer the travel packs.
AND don't forget this deal through 4/30 as well: