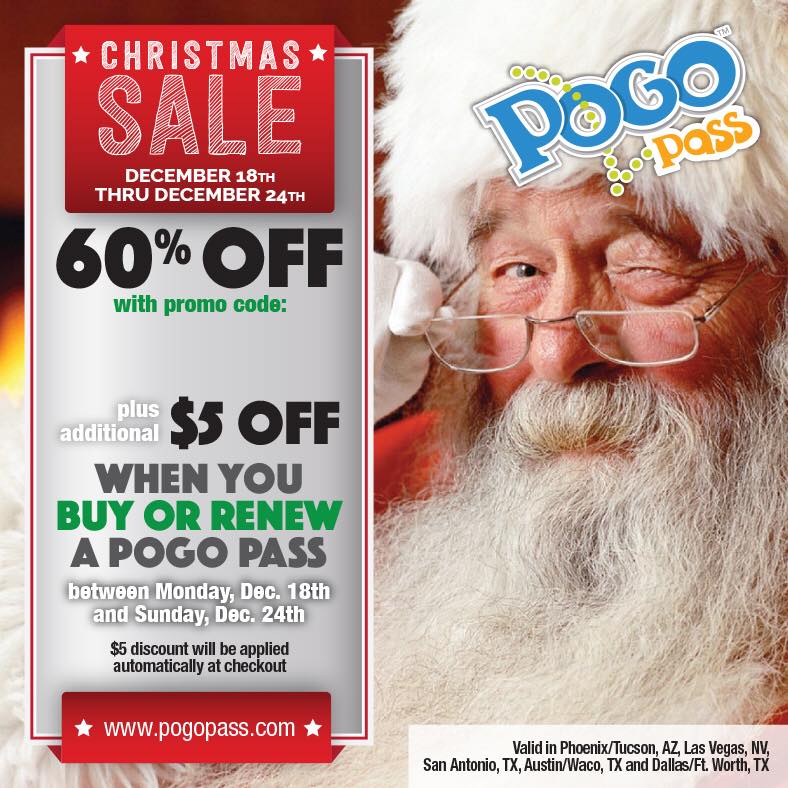 Starting today, 12/18 and running through 12/24, Buy or RENEW a POGO pass with promo code CENTSABLE and score a $5 discount on each pass. The discount will be applied automatically at checkout.
After the promo code CENTSABLE, the price of the pass for the following cities is noted:
Phoenix/Tucson, AZ – $44.98
Las Vegas, NV – $34.98
San Antonio, TX – $34.98
Austin/Waco, TX – $34.98
Dallas/Fort Worth, TX – $34.98
Venues included in the Phoenix/Tucson pass are those noted below:
FatCats – 1 game of bowling per month + 1 Glow Golf per week
Urban Jungle – 1 visit per year
Wazees World Laser Zone – 2 visits per year
Ice Den – 1 visit per month
AZ Air Time – 2 visits per year
DBacks Games ~ 2 games per year
Phoenix Mercury ~ 3 games per year
Arizona Rattlers ~ 3 games per year
Enchanted Island Amusement Park ~ 4 visits per year
Golfland Sunsplash OR Breakers Water Park~ 1 waterpark admission
Stratum Laser Tag ~ 2 visits per year
Phoenix Rock Gym ~ 2 visits per year
Phoenix Zoo ~ 2 visits per year
USA's Skateland ~ 2 visits per month
i.d.e.a. Museum ~ 2 visits per year
Tempe Paintball AND AirSoft~ 1 visit per month
ASU ~ FREE Admission to ALL of the ASU Athletic Home Games (Soccer, Wrestling, Volleyball, Gymnastics, Baseball, Track and Field, Basketball & more)
Golden Pin Lanes: 1 Game per Week
Golf'N Stuff: 3 Visits
Arizona Adventures (Zip Line): 1 Visit
International Wildlife Museum: 1 Visit
Some facts about the POGO Pass:
ONE pass is required per person.
We recommend a pass for ages 2 and up.
Venues can change at any time!
You can print your pass OR log into your account to show your pass at the venue.
Some venues have specific hours to use your pass, so see the POGO website for more.
POGO Passes are personalized so you cannot "share" a pass.