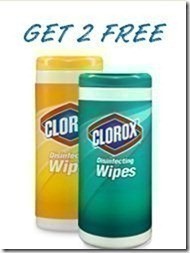 This is STILL going – it started back in May and there are so many left – time for you to share with family and friends that may be teachers.
The 1st 25,000 can get 2 coupons for FREE Canisters of Clorox Wipes.  Follow their instructions below:
Here's what you do:
Sign up for Canisters for Classrooms.(If you are not yet registered with them or currently signed in, you will first be redirected to their registration page.)
Put Clorox® Disinfecting Wipes on your back-to-school list.
Submit your list into the Canisters for Classrooms program.
Look out for 2 FREE coupons*, each good for one FREE Clorox® Disinfecting Wipes canister, mailed to you at your school.  Must submit a qualified entry.
Start the year off right with a clean and healthier classroom!
My daughter had to take wipes for her first day as part of her "Back to School" stash- the teachers would be extremely gracious for this neat freebie.
Thanks, Money Saving Mom!