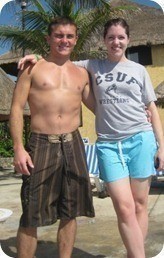 Today is a huge day folks….. we hit 15,000 Facebook fans. And I know that many of you that read are not part of our Facebook community…… so we could possibly have even more that are out there.
We're celebrating the event with a giveaway – hopefully you'll love this one. I wish I could do this for all 15,000 of you but my pocketbook is rather slim 🙂
Just a few years ago, my little brother got married in Cancun; it was gorgeous……my first time going to a tourist part of Mexico – normally I'm limited to Nogales & that's just not the same….
We spent a week there – it was fairly pricey for the package – we have wanted to go back but having 3 kiddos to make happy on the plane is just not happening.. at the time we went, we only had my daughter and she was 2 (and a bear to have on the plane).  It was an amazing experience – we swam in the ocean…..we went parasailing….. we traveled to Chichen Itza and we just ate so much food – & gained so much weight! And Dave was in his glory because he had an endless supply of Pina Coladas and drinks… need I say more?   The picture above is my favorite memory of my little brother & I – notice how he is tan & I'm very pale? I don't tan! Hopefully we can go back again in a few years.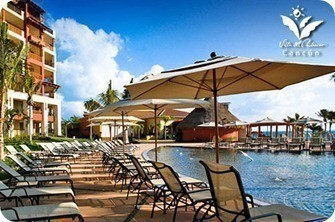 I am hoping that one lucky person will get to enjoy a much needed vacation after all of your hard work to save your family money.
Giveaway:
(1) All Inclusive 4-Night (5 Day) Stay at Villa del Palmar Cancun Mujeres Beach Resort (value $1,300)
The win includes:
::: Deluxe Room for 2 adults ages 30 or +, with all meals, snacks, and drinks included (1 King or 2 Queen Beds)
::: The resort features beach access, 3 outdoor pools, 4 jetted hot tubs, non-motorized water sports, 24 hour room service, and more.
::: This all-inclusive package includes all meals, snacks and beverages at the resort's multiple restaurants and bars (plus room service); open bar with premium liquors, cocktails, beers and wine.
::: Up to 2 Kids 12 & under, or 12 & up may be added, for an extra fee (*Extra fee not included in the win)
The win does not include:
::: Airfare to Cancun, and transfer fee (transfer fee is the fee that you pay from the airport to the resort)
::: Your personal expenses
::: Taxes of $25 per room per day
::: The package requires both adults be ages 30 or above; valid credit card is required for check-in.
::: Travel must be completed by 3/31/13
To Enter:  There are 2 Possible Entries you can get on this giveaway:
1. Leave a comment on this post – you can say anything quite honestly.
2. One extra entry by sharing this post through on your personal Facebook page.   Then come back & let me know you shared for one bonus entry.
All entries will be made by commenting directly on this post.  The contest will end Sunday May 13th, at 8 p.m. PST at which time I will pick 1 lucky winner. Winner will have 24 hours to respond to my email to claim their prize.
*Note* This giveaway was not sponsored, it was self funded.