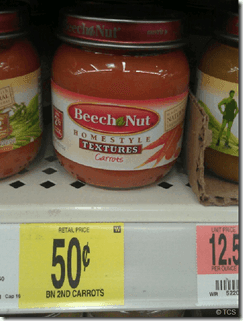 We have a coupon for $1/3 Beech Nut – this time it did reset for me.. give it a shot and let me know if it reset for you. The last time I printed was end of January.
I'm a huge fan of cheap jars of baby food… you can use Carrot variety to make carrot cake… and, well, some of you may have a baby on the way!
Beech Nut Homestyles $0.50
$1/3 Beech Nut
= 3/$0.50, or 17¢
You can print two from each computer – makes a super deal for those of you with kids or .. if you know someone who does.