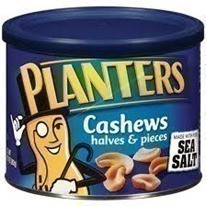 I could eat an entire jar of these… Print a coupon for $1/1 Planter's Cashew Halves and Pieces or Mixed Nuts.
I saw some for over 50% off at CVS last night – they are also on sale at CVS 2 for $8 as well this week (though.. .. you may find them cheaper on clearance more than likely..)… I remember seeing them for $2.99.
Use zip 36601 – To change the zip, go HERE – enter zip 36601 in top corner, then go back to HERE and click FOOD.