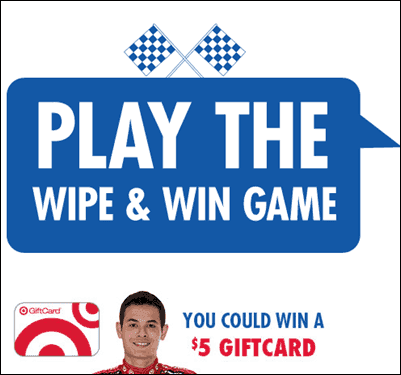 Try your best at any of these Instant Win Games Below – all sorted by end date.
Hershey's Smores IWG
Play daily through 9/6 for any one of 1,112 prizes – a Smores Prize Pack. YUM!
Kroger Kickoff to Savings Instant Win Game
Play Daily through 9/13. It's open to residents of AL, AK, AZ, AR, CA, CO, GA, ID, IL, IN, KS, KY, LA, MI, MS, MO, MT, NE, NV, NM, NC, OH, OR, SC, TN, TX, UT, VA, WA, WV and WY.
Nabisco Snack & Go
Play daily through 9/30 for your shot at 1 of over 100 Prizes – including a Nascar themed bag of goodies.
Dasani Drops IWG
1,430 will win a FREE Dasani Drops – play now through 9/30.
Organic Valley IWG
Play for any of 100 FREE Daily Samples through 9/30.
Green Mountain Coffee Sampler
Play daily for any 1 of over 622 FREE Prizes – a Keurig Green Mountain Sampler or a FREE Brewer – through 9/26.
Tradewinds, a Piece of Paradise
Through 10/1, play daily for any of 90 Prize Packs.
Biscoff Cookies IWG
Play daily through 10/1 for 1 of 20,000 FREE Products.
Nestle Open up a World of Sweetness IWG
Play daily through 10/8 for any of over 100 prizes to include a Sweet Leaf Tea Swag Bag.
Cottonelle Wipe & Win
Play daily through 10/15 for 1 of 1,000 $5 Target Gift Cards.
Lay's Do Us a Flavor
Enter daily through 10/18 for 1 of 50,000 Finalist Prizes: $50 in the form of a check
Kellogg's Back to School IWG
Play daily through 10/28 for any of 2,800 Prizes.
Powerade Fall Football IWG
Play daily through 10/31 for 1 of 92 $500 Gift Cards – enter 5x daily and see 5C for a FREE entry.
WinCo IWG
Play daily to win 1 of 7 $50 Gift Cards.
Jack Links Sweeps
Enter daily through 11/9 for any of 500 FREE T-Shirts.
Lunchables $10 Amazon Gift Card IWG
Ages 14-17 can play daily through 12/31 for any of 10,000 Amazon Gift Cards valued at $10.
Cottonelle Take a Spin IWG
Play daily through 12/31 for any one of 9,000 FREE Products.
Mike & Ike Spin & Win
Play daily through 12/31 for 1 of 250 FREE Candy Packs each month.
Schwans Tailgate at your Place IWG
Play daily through 1/15/2015 for 1 of 1,800 Gift Cards or iPads.
Thanks Hunt 4 Freebies, Sweeties Sweeps
Please see my disclosure policy.
Recently In This Category