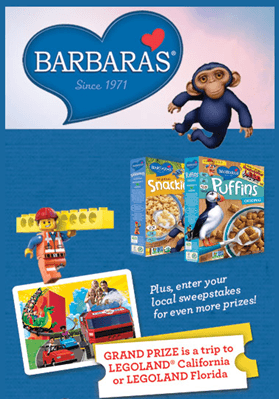 Here is an updated list of Instant Win Games .. they are all sorted by their end date – good luck!
Popcorn Indiana Sweeps
Play daily through 3/3/2014 for 1 of 1,000 prizes.
Tetley Tea Brain Teasers
Enter this daily through 3/3 for 1 of 30 prizes: FREE Tea & a FREE Mug.
Kroger Fast Track to Savings
Play daily through 3/5 for 1 of 300 $25 Kroger Gift Cards.
Barbara's Bakery Sweeps
Enter the Barbara's Bakery Sweepstakes through 3/14 for your chance at winning any of 61 daily prizes
Walmart Gift Card 
Enter daily through 3/15 for 1 of 64 prizes = a $100 Gift Card.
Sprite Prize Pack
Head over & play daily thru 3/16 for 1 of 424 first prizes, 424 second prizes or 424 THIRD prizes!
Sparkle Paper Towel Walmart Gift Card
Enter daily through 3/17 for any of 64 Daily FREE Gift Cards to Walmart Valued at $100.
InStyle 7 Days of Style
Enter daily through 3/20 for any of 70 prizes.
Scott Seed Challenge 
Play daily through 3/30 for any of 128 prizes to include a $25 Lowe's Gift Card.
Green Mountain Sampler and Prize Pack
Through 3/31/2014 play once daily for your chance at 1 of over 400 prizes.. including a FREE Green Mountain Sampler Pack.
WWE Video Game & T-Shirt Sweeps
Enter daily thr 3/31 for any of 2,000 prizes – a FREE T-Shirt (1,000) or, a FREE W2K14 Video Game (1,000).
Libman Sponge Giveaway
Libman is giving away 31,000 FREE Sponges – 1,000 per day. You can enter daily for your chance to win.
Jack Daniels Honey Hysteria
Enter daily through 4/7 for any of 195 really neat prizes from Jack Daniels.
Quaker Back on Track IWG
Through 4/9, enter daily for 1 of 180 Prize Packs.
Snack Pack IWG
Play daily through 4/30 for 1 of 2,000 $25 Gift Cards.
Coke Zero Everything Instant Win Game
Enter daily through 4/30 for any one of over 700 prizes.
Morton Salt Girl 100th Birthday IWG
Enter daily through 5/24 for 1 of 138 Random Prizes.
Nabisco Snack & Go
Play daily through 9/30 for your shot at 1 of over 100 Prizes – including a Nascar themed bag of goodies.
Lay's Do Us a Flavor
Enter daily through 10/18 for 1 of 50,000 Finalist Prizes: $50 in the form of a check
Thanks Hunt 4 Freebies, Sweeties Sweeps
Please see my disclosure policy.
Recently In This Category