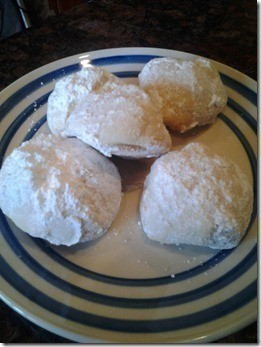 I wanted to share one of my favorite cookie recipes – I made these twice the last few days, they certainly don't last very long in our house….. because they only require 4 ingredients, they are usually what we have in the house on a daily basis.
When I was a kiddo, my mom made these for us fairly often; she was British (my mom) and told us that they were a popular cookie when she was a kid as well.  They go by a variety of names, Russian Tea Cakes, Wedding Mexican Cookies…… they're a bit messy with the powdered sugar, but great with coffee.
Ingredients:

2 C. Flour
1 C. Cold Butter (not margarine)
2 tsp Extract – Vanilla
1/2 C. and 1/4 C. Powdered sugar – separate

Cut the Butter into the flour until crumbly; add the extract and the Powdered sugar and stir until well blended. It will take a while! You'll form into 2" balls, and place on a cookie sheet. Once on the cookie sheet bake at 350 for 10 minutes ~ remove, let cool and roll in the (1/4 C) of Powdered Sugar.
Store them covered ~they won't last long!
Please see my disclosure policy.
Recently In This Category