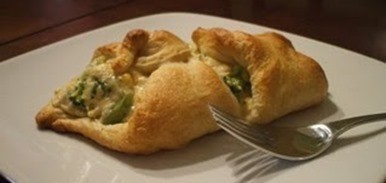 What's for dinner at your house? I pulled out hamburger/ground beef for dinner tonight, and saw broccoli and a block of cream cheese in my freezer/fridge.. must get used.  The cream cheese is only good thru this Friday.
Put back the hamburger and decided to go with chicken instead, and tossed in the crock pot on high.  This is what I'm making.. I just need to run to the store fast and get Crescent Rolls!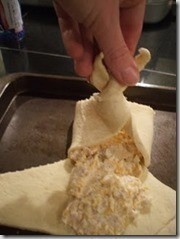 Ingredients:
Chicken – 2 breasts for 4 folks
Cooked or Thawed bag of Frozen Broccoli – (I have Birds Eye)
Shredded Cheese
Mayo or Cream Cheese (or substitute cream of chicken!)
Crescent Rolls
Salt, Pepper, Garlic Powder
:: Preheat oven to 350.
:: Mix your meat, veggie, cheese, mayo, and seasonings to taste and desired consistency.
:: Place two crescent triangles together at their broadsides. Repeat and overlap the two large triangles as shown.
:: Place filling down the middle
:: Pull up the small ends, twist, and lay flat. Repeat …
:: Bake, 17 min at 350.
The kids love it when I make it.. and that definitely helps at the dinner table!
Please see my disclosure policy.
Recently In This Category