If you haven't tried this yummy treat, you need to give it a shot. It's been a while since I have made it…… but today Wendy reminded me that is her favorite. So tonight sometime, I will need to make this before she gets upset. You wonder why I would make a mug cake instead of just a whole box? Too easy – I wont eat the entire pan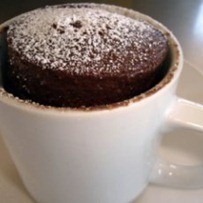 Cake in a Mug
4 Tbsp Flour
4 Tbsps sugar
2 Tbsps unsweetened cocoa
1 egg
3 Tbsps vegetable oil
3 Tbsps milk
Chocolate Chips – if you want
Whip up the Eggs, Oil, Sugar and Milk – stir in the dry. Spray the mug with Pam, pour in the batter, and pop in the microwave for 3 minutes – open the oven door and check to see if looks done. If not, 15-20 sec more should be good. Use a knife, loosen from the mug and yum!
Note: Should you have cake mix and want to use it for this, you can mix 3 Tbsp Cake Mix + 2 Tbsp Water = 1 Minute in the microwave for the same result. Don't forget to spray the mug with PAM first
Photo Credit: Yummly
Please see my disclosure policy.
Recently In This Category