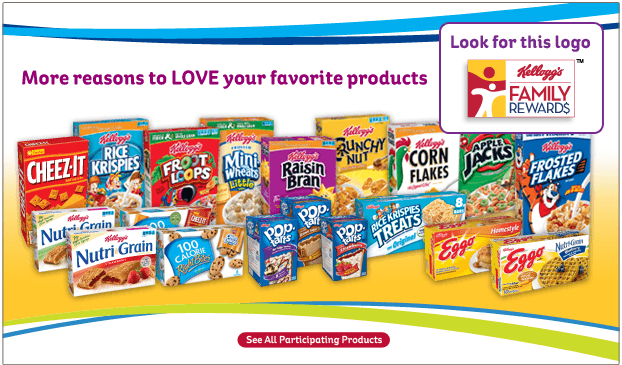 Grab 50 NEW Points (& 100 previously posted) that you can redeem on Kellogg's Family Rewards!
BACKTOSCHOOL2014- 50 POINTS (NEW)
BROOKSTONESWEEPS – 50 POINTS (NEW!)
TOTALLYHOTSUMMER – 100 POINTS (previously posted)
If you are not a member you can join HERE – Kellogg's Family Rewards allows you to be rewarded for those basic Kellogg's purchases you make – from cereal to Eggos, to Pop Tarts + more. Here are more points recently posted – let me know if they no longer work.
AMAZINGSPIDERMAN
GRAINSDAIRYFRUIT
GIFTOFMUSICBONUS
GREATSTARTSBONUS
EARNGREATREWARDS
EARNSWEETREWARDS
HOLLYJOLLYCOSTCO

HOWITWORKS20PTS
KELLOGGSFREEBOOK
KFRSHARETHANKS20
SPIDEYEXCITEMENT
SPRINGONTHECOLOR
thanks, Terrie!
Please see my disclosure policy.
Recently In This Category