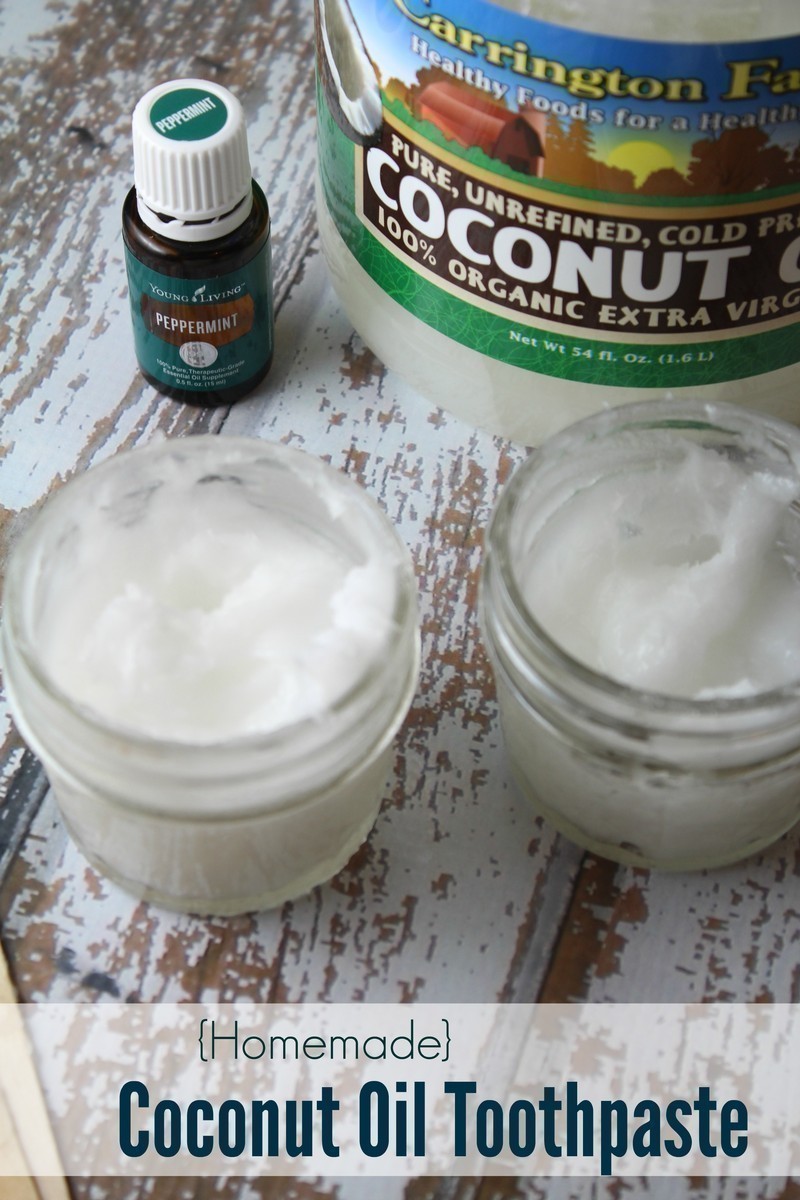 We haven't bought commercial brands of toothpaste (Crest, Colgate, etc.) for a VERY long time in our house ~ you see our last post to understand why we choose not to.
But that doesn't mean we don't brush – because we do!
I mentioned HERE that we moved away from the commercial varieties because they have some not-so-nice ingredients in them that we feel are not great for us as a whole. And while your opinion may differ, we stand pretty firm in our choices and so there isn't much that's going to waver us to go back – not even a free tube after coupons.
While David and I use Young Living Thieves Toothpaste and have for the last few years, our kids use their Kids line of Toothpaste (and they love), but my 9 year old is pretty insistive on making her OWN and not sharing.
So that is what she does and if that makes her happy … I'm all for it. We have 2 bathrooms and because it seems like our kids are all over the house in a different place every night, she keeps a jar in each bathroom.
Her toothpaste is made of 3 basic items – you may just have in your cabinet:
Coconut Oil – Contains Antibacterial / Antimicrobial Properties (due to it's high Lauric Acid content)
Baking Soda – which works to neutralize the bacteria in your mouth, as well as whiten teeth
Essential Oils (Peppermint, pictured) – it takes one pound of Peppermint to make one 15 ml bottle of Peppermint Essential Oil, and is 4 times as concentrated as peppermint extract
Just like any homemade alternatives (ie. Detergent, Body Powder, etc.) this does take some adjusting to – but after adjusting to this new toothpaste, I'm certain you will likely continue to use it and skip the type in the store. We always have Baking Soda & Coconut Oil as a staple in our pantry so for us it's cheaper and easier than clipping and going to the store.
Not to mention it's better for you. So if you have a child or two ( like my oldest) who insists on having her own DIY toothpaste, then this might be something you want to try.
Homemade Coconut Oil Toothpaste
Ingredients:
1/2 C. Coconut Oil
3 Tbsp Baking Soda
20 drops Peppermint Essential Oil (we use Young Living)
Instructions:
Mix up the Baking Soda, Coconut Oil and Peppermint Essential Oil until well blended. Store in a small, glass jar. When using, we don't recommend "dipping" your toothbrush in, but instead use a wood popsicle stick to apply a small amount on your toothbrush. You want to avoid accumulating water in the jars as the Coconut Oil will become rancid.
Did you know… you can also use Orange, too? One thing to remember though is that typically when you mention Peppermint, people are fast to say "you can't swallow Essential Oils" — which does hold some truth. We have mentioned in the past that Essential Oils vary SO greatly in quality.
You can indeed buy the Oils they sell in the grocery store, but those are quite typically fragrance oils – they are cheaper in cost because they hold a SMALL portion of Peppermint and are distilled with chemicals to make a larger bottle. They also have warnings on the bottle (do not ingest, etc.)
We use Young Living because they are Therapeutic Essential Oils and Peppermint CAN be used internally – each drop packs a LOT of punch so you want to ensure you use your judgement when adding to the Toothpaste, and always use glass (not plastic!)
It's extremely important that we use quality Essential Oils – and we really love Young Living (we've been using them for three years!)
We LOVE everything about our oils and use for everything from personal health to wellness. Thankfully Young Living makes it incredibly easy to score a wholesale discount on your oils – when you pick up their starter kit (as low as $144 this month of February!) you get ALL of those oils above, and a diffuser – not to mention the opportunity to buy your oils at wholesale cost.
Right now you sign up for a Premium Starter Kit offer for this month + $40 in BONUS items too.
Head here to read more about why WE picked Young Living, & how you can get started, too!
Related Posts: