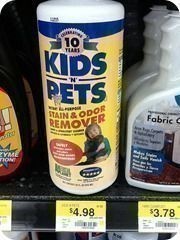 Head over HERE to Kids 'N Pets on Facebook & check out the top of their page for a rebate form.
Buy any Kids'N Pets item, fill out THIS rebate form, send in your proof of purchase and you will get reimbursed for the product in the form of a mail-in-rebate!
You can find Kids'N Pets at your local Wal Mart – in my sore, it was next to the brooms & mops in the cleaning area (bottom shelf) ..if you don't see it, look in the same area but on the middle shelf.
Please see my disclosure policy.
Recently In This Category