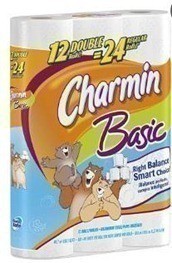 Here's a great scenario if you need toilet paper next week. Just last week we got a new SavingStar offer:
Get $5.00 when you spend $20.00 on any Charmin®, Mr. Clean® and Febreze® products through March 28th, 2013. (Save to your CVS Card)
The offer works best starting tomorrow – we'll have a $10 ECB wyb $30 in Charmin… and combined with the SavingStar it makes for a stock up price.
$10 ECB wyb $30 in P&G (Lim 1)
Buy 6 Charmin Ultra Soft/Strong 9 pk $5.49 ea. (each 152.6 sq feet) OR
Buy 6 Charmin Basic 12 pk Double $5.49 ea. (each is 483.3 sq feet)
Load SavingStar offer for $5 back when you buy $20
= $32.94
Use 4– $.25/1 Charmin 1/27 P&G (x 2/28)
= $31.94 | Earn $10 ECB and $5 from SavingStar offer
Final Price: $16.94  for 6 pks of Charmin Basic, or 2,890 sq feet.
That works to $.006/square feet – stock up is $.01 or less
I would save the offer to your account now so you have it for that week – you can also use a $4/$20 or $5/$25 to bring your cost down as well – should you get lucky and receive one the week of the deal.
The offer won't come off at the register; instead, in about 2-3 weeks it'll reflect in your SavingStar account; you can request PayPal, or Amazon Gift Card for that $5.00.
Please see my disclosure policy.
Recently In This Category