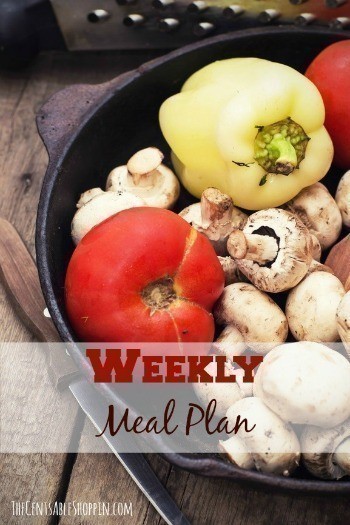 Here's your Weekly Meal Plan through next Wednesday.
Every week I will post 5-6 links to Dinner Recipes, and 2-3 Dessert Recipes, and perhaps a few other Random Recipes you can use that incorporate the weekly sales items. This week we have a great sale on Hatch Chiles, Chicken Drumsticks, Granny Smith Apples, almost FREE Cream Cheese, and Bell Peppers.
Because our time is precious, and because we have kids, and it's hot, driving to multiple stores is simply not cost effective for most.
Using the best prices from ALL of the Valley Grocers, I tried to make the plan revolve around this one Weekly Price List… you can pick up cheap cream cheese & sour cream at Fry's or Walmart. Most of us should be stocked up on sugar.
You can certain drive to various stores, but the bulk of the items can simply be as easy as making a trip to Walmart…. remember that not all Walmart stores may price match so keep that in mind.
Use this Weekly Menu Planner to fill in by hand. OR this fillable Weekly Menu Planner.
Recipes
Classic Tuna Noodle Casserole
Frozen Peas
Egg Noodles
Cream of Mushroom
1 Pouch or 2 Pouches Starkist Tuna in Water or Light Tuna (pick up at Safeway)
Easy Fish Tacos
Corn Tortillas
Avocados, Salsa & Sour Cream
Lemon Slow Cooker Garlic Chicken
Butter, Lemon Juice, Black Pepper, Chicken Bouillon
Rice, OR Pasta
Crock Pot Stuffed Bell Peppers
Crock Pot Stuffed Cabbage Rolls
White Rice
Tomato Sauce
Worcestershire Sauce, Lemon Juice & Brown Sugar
Fettuccine Alfredo
Fettuccine Noodles
Butter
Cream Cheese
Chicken can be added as an option
Slow Cooker Apple Crisp
Cinnamon, Flour
Butter
Oats & Brown Sugar
Cinnamon Crock Pot Apple Butter
White Sugar
Cinnamon & Cloves
Old Fashioned Slow Cooker Baked Apples
Hatch Chile Corn Muffins
Flour, Cornmeal, Sugar & Baking Powder
Egg, Buttermilk & Butter
(Tip: for Buttermilk, mix the juice of 1 lemon with 1/2 C. Milk and let sit 5 minutes)