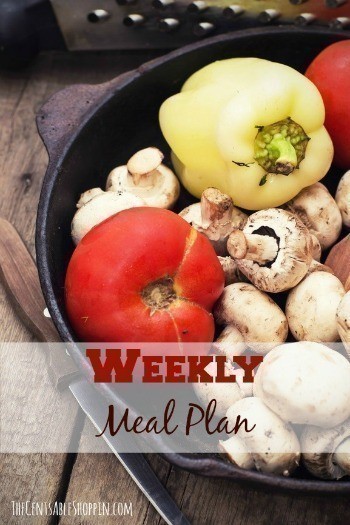 Here's your Weekly Meal Plan through next Wednesday.
Every week I will post 5-6 links to Dinner Recipes, and 2-3 Dessert Recipes, and perhaps a few other Random Recipes you can use that incorporate the weekly sales items.
Here are some of this week's top deals:
Grands Biscuits are $.50 at Safeway

Canned Campbell's Cooking Soups are cheap at Fry's

Barilla Boxed Pasta is $.50 per box at Fry's

The

price match list

holds cheap Squash, Shredded Cheese, Ground Beef, Chicken, Bell Peppers, Bananas, Carrots & more – most all of which you can price match at Walmart.
Using the best prices from ALL of the Valley Grocers, I tried to make the plan revolve around this one Weekly Price List.
You can certain drive to various stores, but the bulk of the items can simply be as easy as making a trip to Walmart…. remember that not all Walmart stores may price match so keep that in mind.
Use this Weekly Menu Planner to fill in by hand. OR this fillable Weekly Menu Planner.
Butternut Squash Enchiladas
Chipotle Chiles (buy these at Fry's, $1 for the can in the Latin aisle)

Cream Cheese

Cumin, Nutmeg, Garlic

1 Can Enchilada Sauce, 16 oz
Runza Casserole
2 pkg Crescent Rolls – Safeway has the 4 ct for $1
Sour Cream Pork Chops
Salt, Pepper, Garlic Powder, Flour

Onion

2 Chicken Bouillon Cubes

8 oz Sour Cream
Stuffed Pepper Soup
Beef Bouillon Granules

2 C. Rice

1 Can 28 oz Diced Tomatoes

1 Can 28 oz Tomato Sauce
Cheesy Rigatoni Bake
Butter, Flour, Salt

2 Cans Tomato Sauce
Slow Cooker Cheesy Chicken Broccoli
1 Can Broccoli Cheese Soup

1 Bag of Frozen Broccoli Florets
Potato Crock Pot Soup
Pepperoni Pull Apart Bread
2 Packs of Pepperoni – cut into Quarters (Pepperoni is FREE at Fry's)
Basil, Oregano, Garlic, Olive Oil
Cinnamon Roasted Butternut Squash
Apple Pie
Butter
Flour
Sugar
Cinnamon, Nutmeg
Lemon Crumb Bars
1 pkg. Lemon Cake Mix
1/2 C. Butter
2 C. Crushed Saltines (the Kroger Brand are 10/$10 this week at Fry's)
1 Can Sweetened Condensed Milk