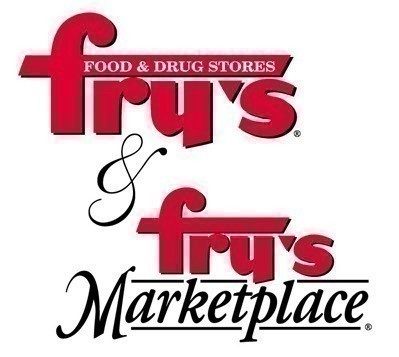 Here are the best deals and coupon matchups for the Mega Sale starting today – July 30th at Fry's. The sale runs 2 weeks and ends August 12th.
You can see a PDF of all inclusive items (which are reflected in the matchups) by heading HERE.
We have been up very early today, and just finished updating prices. There are a few that we could not find tags for in store.
Want to see your Fry's Deals on the Go?
Use the free Favado mobile app to see the Fry's Deals on your mobile device. Reference my last post to learn how to swap between the current ad and the upcoming sales ad.
Buy 5 participating items, Get $5 OFF Instantly (Must buy 5; Final Price reflects Mega Savings)
Meat, Poultry & Fish
Hillshire Farm Smoked Sausage, Turkey Rope – $2.99 -
Includes: Select varieties
$0.55/1 Hillshire Farm Smoked Sausage Links or American Craft Handcrafted Sausage Links – 7-27-14 RP – (exp. 09/07/14)
Natural & Organic
Barbara's Snackimals – $3.50
Includes: Select varieties
Out-of-Pocket Price:
$1.00
Buy 1; Use $1.50/1 Coupon; Includes: Shopmium
Condiments, Spice & Baking
Grill Mates Steak Sauce – $2.49
Includes: Select varieties
Out-of-Pocket Price:
$1.49
Jif Peanut Butter 15.5 – 16 oz – $2.49
Includes: Select varieties
$0.50/1 Jif Peanut Butter or Whips Product – 7-13-14 RP – (exp. 09/13/14)
Coupon was Regional
KC Masterpiece BBQ Sauce or Marinade – $2.49
Includes: Select varieties
$0.50/1 KC Masterpiece BBQ Sauce or Marinade – 6-8-14 SS – (exp. 07/31/14)
Kraft Salad Dressing – $2.49
Includes: Select varieties
Lawry's Marinades, 12 oz – $1.99
Includes: Select varieties
Smucker's Fruit Spread, 17.25 – 18 oz – $2.49
Includes: Select varieties
$0.35/1 Smucker's Jam, Jelly, Preserves, or Fruit Spread Product – 6-29-14 RP – (exp. 08/10/14)

$0.50/1 Smuckers Fruit Spread or Fruit Fulls Pouch Products – 7-13-14 RP – (exp. 09/13/14)
Use $0.35/1 Coupon (Regional)
Grains, Pasta & Sides
Barilla Italian Entrees – $2.29
Includes: Select varieties
Minute Rice, White or Brown, 28 oz – $2.99
Includes: Select varieties
Success Boil-in-bag Rice – $3.99
Includes: Select varieties
Cookies, Snacks & Candy
Keebler Cookies, 6.6 – 15 oz – $2.49
Includes: Select varieties
Buy 1; Use $0.75/1 Coupon
Kellogg's Rice Krispies Treats 8 ct or Blasted, 6 ct – $2.49
Includes: Select varieties
Use $1.50/1 Coupon
Nabisco Snack Crackers, 3.5 – 9.5 oz – $2.49
Includes: Select varieties
Out-of-Pocket Price:
$1.49
If included
Nabisco Snack-Saks, 10 oz – $1.99
Includes: Select varieties
Beverages
Crystal Light Drink Mix, Canisters – $2.89
Includes: Select varieties
Crystal Light On the Go Drink Mix – $2.49
Includes: Select varieties
Final Price: $0.49
Dairy
I Can't Believe It's Not Butter Spread – $2.89
Includes: Select varieties
$0.50/1 I Can't Believe It's Not Butter Spread; Maximum 2 Identical Coupons Allowed In Same Shopping Trip – 7-27-14 RP – (exp. 08/24/14)

$0.60/1 I Can't Believe It's Not Butter Spread; Maximum 2 Identical Coupons Allowed In Same Shopping Trip – 7-27-14 RP – (exp. 08/24/14)
Kraft Natural Cheese, Chunks – $2.99
Includes: Select varieties
Buy 1; Use $1.50/1 Coupon
Kraft Natural Cheese, Shredded – $2.99
Includes: Select varieties
Buy 1; Use $1.50/1 Coupon
Baby Food & Care
Huggies Baby Wipes, 64 ct Soft pack – $1.99
Includes: Select varieties
$0.50/1 Huggies Baby Wipes, 32 ct or Larger – 7-13-14 SS – (exp. 08/09/14)

Buy 2 participating Huggies products, Get $5 OFF On Your Next Order; Buy 3, Get $7 OFF On Your Next Order; Buy 4 or More, Get $10 OFF On Your Next Order Huggies Diapers, 38 ct or Larger; Pull-Ups, 38 ct or Larger; or Goodnites, 38 ct or Larger – Fry's Catalina – (exp. 08/10/14)
Home Supplies
Downy Unstopables, 9.7 oz – $4.49
Includes: Select varieties
$0.50/1 Tide Detergent, Boost, To Go, or Washing Machine Cleaner; Downy Fabric Softener; or Bounce; Excludes Trial and Travel Size; Limit of 4 Like Coupons Per Household Per Day, Tide Simply Clean & Fresh, Pods, Downy Unstopables, Single Rinse and Bounce Bursts- 7-6-14 PG – (exp. 07/31/14)

$1.00/2 Tide Detergent, Boost, To Go, or Washing Machine Cleaner; Downy Fabric Softener; or Bounce; Excludes Trial and Travel Size; Limit of 4 Like Coupons Per Household Per Day, Tide Simply Clean & Fresh, Pods, Downy Unstopables, Single Rinse and Bounce Bursts- 7-6-14 PG – (exp. 07/31/14)

$2.00/1 Tide Pods, Gain Flings, Downy Unstopables, Gain Fireworks, or Bounce Bursts; Excludes Trial and Travel Size; Limit of 4 Like Coupons Per Household Per Day – 7-6-14 PG – (exp. 07/31/14)

$2.00/3 Tide Detergent, Boost, To Go, or Washing Machine Cleaner; Downy Fabric Softener; or Bounce; Excludes Trial and Travel Size; Limit of 4 Like Coupons Per Household Per Day, Tide Simply Clean & Fresh, Pods, Downy Unstopables, Single Rinse and Bounce Bursts- 7-6-14 PG – (exp. 07/31/14)

$5.00/3 Tide Boost, Downy Unstopables, Downy, or Bounce Bursts; Excludes Trial and Travel Size, Downy Single Rinse, Tide Simply Clean & Fresh, Tide Pods, and Detergent, 10 oz; Limit of 4 Like Coupons Per Household Per Day – 7-27-14 PG – (exp. 08/10/14)
Use $2/1 Coupon
Gain Fireworks, 9.7 oz – $4.49
Includes: Select varieties
$1.00/1 Tide Pods, Gain Flings, Downy Unstopables, Bounce Bursts, or Gain Fireworks; Excludes Trial and Travel Size; Limit of 4 Like Coupons Per Household Per Day – 7-13-14 RP – (exp. 08/31/14)

$2.00/1 Tide Pods, Gain Flings, Downy Unstopables, Gain Fireworks, or Bounce Bursts; Excludes Trial and Travel Size; Limit of 4 Like Coupons Per Household Per Day – 7-6-14 PG – (exp. 07/31/14)

$2.50/2 Tide Pods, Gain Flings, Downy Unstopables, Bounce Bursts, or Gain Fireworks; Excludes Trial and Travel Size; Limit of 4 Like Coupons Per Household Per Day – 7-13-14 RP – (exp. 08/31/14)

$3.00/2 Tide Pods, Gain Flings, Downy Unstopables, Gain Fireworks, or Bounce Bursts; Excludes Trial and Travel Size; Limit of 4 Like Coupons Per Household Per Day – 7-6-14 PG – (exp. 07/31/14)
Use $2/1 Coupon
Gain Flings Laundry Detergent, 18 ct – $4.99
Includes: Select varieties
$1.00/1 Tide Pods, Gain Flings, Downy Unstopables, Bounce Bursts, or Gain Fireworks; Excludes Trial and Travel Size; Limit of 4 Like Coupons Per Household Per Day – 7-13-14 RP – (exp. 08/31/14)

$2.00/1 Tide Pods, Gain Flings, Downy Unstopables, Gain Fireworks, or Bounce Bursts; Excludes Trial and Travel Size; Limit of 4 Like Coupons Per Household Per Day – 7-6-14 PG – (exp. 07/31/14)

$2.50/2 Tide Pods, Gain Flings, Downy Unstopables, Bounce Bursts, or Gain Fireworks; Excludes Trial and Travel Size; Limit of 4 Like Coupons Per Household Per Day – 7-13-14 RP – (exp. 08/31/14)

$3.00/2 Tide Pods, Gain Flings, Downy Unstopables, Gain Fireworks, or Bounce Bursts; Excludes Trial and Travel Size; Limit of 4 Like Coupons Per Household Per Day – 7-6-14 PG – (exp. 07/31/14)
Use $2/1 Coupon
Glade Candles or Wax Melts – $3.39 – Prices vary
Includes: Select varieties
$0.55/1 Glade Jar Candle – 7-13-14 SS – (exp. 08/23/14)

$1.00/2 Glade Jar Candle – 7-13-14 SS – (exp. 08/23/14)
Out-of-Pocket Price:
$1.39
Buy 1; Use $0.55/1 Coupon; Includes: iBotta
Includes: Select varieties
$0.55/1 Glade Wax Melts Refill; Excludes Warmer – 7-13-14 SS – (exp. 08/23/14)

$1.00/1 Glade Wax Melts Warmer – 7-13-14 SS – (exp. 08/23/14)

$1.00/2 Glade Wax Melts Refill; Excludes Warmer – 7-13-14 SS – (exp. 08/23/14)
Out-of-Pocket Price:
$1.29
Buy 1; Use $1/1 Coupon; Includes: iBotta
Lysol All-Purpose Cleaner – $3.19
Includes: Select varieties
Resolve Pre-Treat Spray or Stain Remover Refill, 22 oz – $2.79
Includes: Select varieties
Includes: Select varieties
$1.00/1 Tide Pods, Gain Flings, Downy Unstopables, Bounce Bursts, or Gain Fireworks; Excludes Trial and Travel Size; Limit of 4 Like Coupons Per Household Per Day – 7-13-14 RP – (exp. 08/31/14)

$2.00/1 Tide Pods, Gain Flings, Downy Unstopables, Gain Fireworks, or Bounce Bursts; Excludes Trial and Travel Size; Limit of 4 Like Coupons Per Household Per Day – 7-6-14 PG – (exp. 07/31/14)

$2.50/2 Tide Pods, Gain Flings, Downy Unstopables, Bounce Bursts, or Gain Fireworks; Excludes Trial and Travel Size; Limit of 4 Like Coupons Per Household Per Day – 7-13-14 RP – (exp. 08/31/14)

$3.00/2 Tide Pods, Gain Flings, Downy Unstopables, Gain Fireworks, or Bounce Bursts; Excludes Trial and Travel Size; Limit of 4 Like Coupons Per Household Per Day – 7-6-14 PG – (exp. 07/31/14)
Personal Care
Clean and Clear Facial Cleanser – Prices start at $3.59
Includes: Select varieties
$1.00/1 Clean & Clear Product; Excludes Trial and Travel Size – 7-27-14 SS – (exp. 09/30/14)
Out-of-Pocket Price:
$1.49
Buy 1; Use $1.10/1 Coupon; Includes: Checkout51
Colgate Toothpaste, 8.2 oz – $2.49
Includes: Select varieties
$0.50/1 Colgate Toothpaste, 3.4 oz or Larger; Excludes 2.8 oz, 2.8 oz Bonus, 0.75 oz, or 0.85 oz Trial – 7-27-14 SS – (exp. 08/09/14)
CoverGirl Cosmetics – Prices start at $2.55 for Accessories & Shadow
Includes: Select varieties
Buy 5 Shadows at $1.55 wyb 5; Use (2) $3/2 and (1) $1/1
Dove Shampoo, Conditioner or Styler – $3.17
Includes: Select varieties
Herbal Essences Body Wash – $2.99
Includes: Select varieties
Includes: Select varieties
Old Spice Body Spray – $1.99
Includes: Select varieties
Buy 1; Use $0.75/1 Coupon
Simple Face Wipes – $3.99
Includes: Select varieties
Use $2/1 Coupon