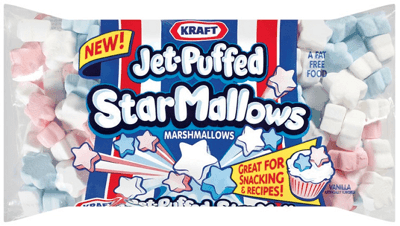 If you haven't printed this coupon for $.75/2 Kraft StarMallows, you might want to print it out — it'll may lend way to cheaper marshmallows at Bashas starting tomorrow.
Bashas will have Marshmallows for $.88 – if the StarMallows are included, pick up for as low as $.38.
OR, pick up at Target for just $.67:
Deal: Buy 2 Kraft Star Mallows $2.08
Use 50% off Kraft Star Mallows Target Cartwheel (x 7/26)
Use $.75/2 Kraft StarMallows
Pay just $.67 ea.