Disney Live! Mickey's Music Festival is coming to Phoenix
at US Airways. and we have something great to offer my readers!
A Family 4 pack of tickets! Contest ends 9/21
"Disney hits are remixed to the hottest sounds of today featuring hip hop, pop, swing, reggae, rock, country and much more!" – Sounds like a dancing good time for the younger kids!
Just added another ticket DISCOUNT CODE: BLOG10 - $10 tickets for kids 12 and under with this code. Valid on $22 seats ONLY! Restrictions and fees may apply. No Double Discounts.
Just added – Download these coloring & activity sheets!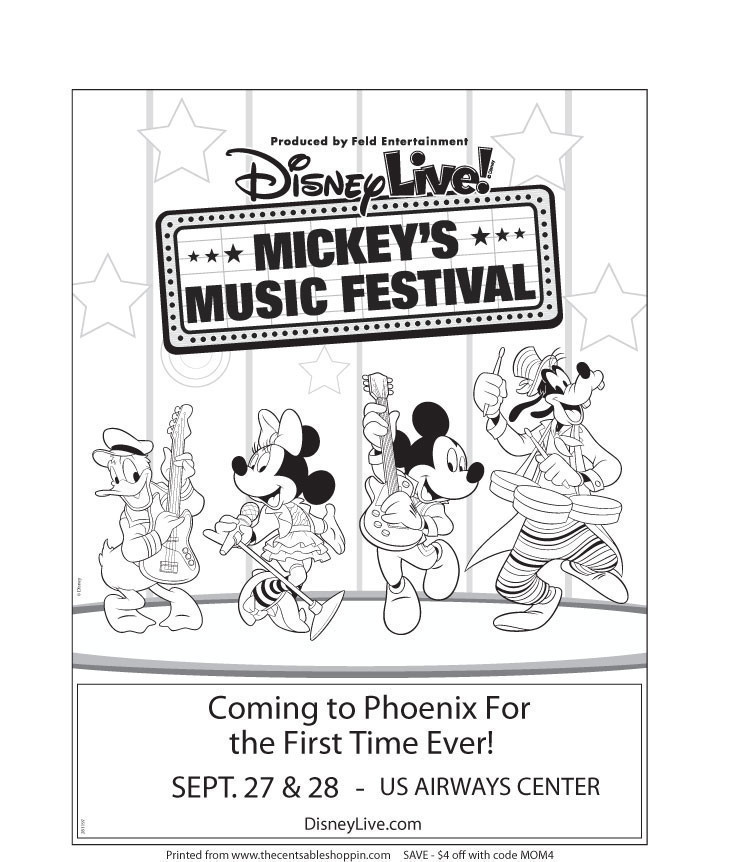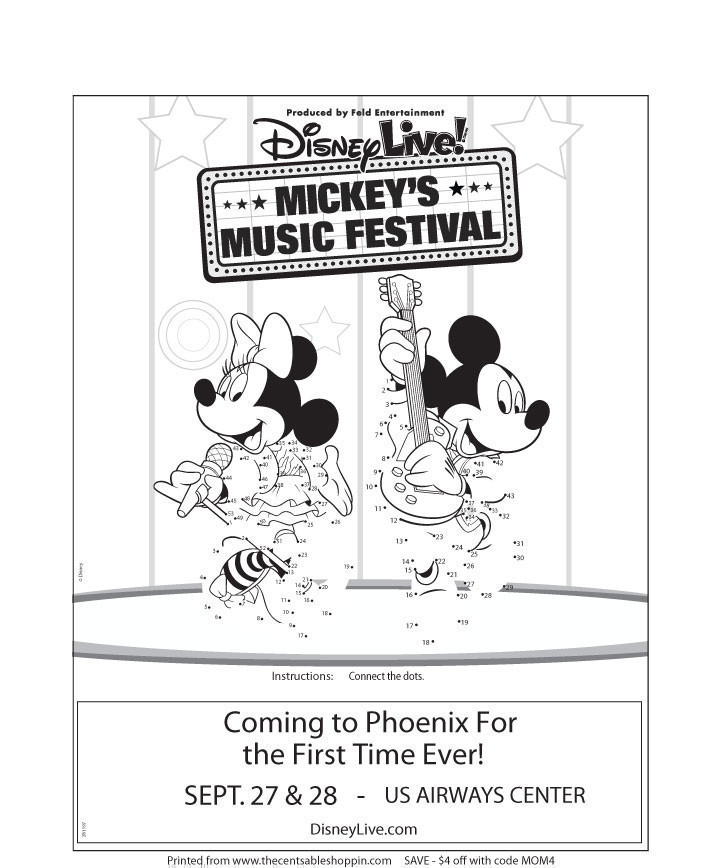 What's better is that the show will have Special Guests from Disney favorites like The Little Mermaid, Aladdin, and Toy Story! So if you have kids who love Mickey's Friends as well as those special appearances, you are certain to have a good time. Well the kids and maybe you, the parents. You tell us!
If you win, we want to hear all about it!
If you do not win, or just want to buy tickets now, you certainly can! Be sure to use the special code to save. Generally if you have children under the age of 1 you don't need to buy a ticket. The show does start promptly on time and will run about 90 minutes with a 15 minute intermission. Cameras are allowed within reason, so you can take pictures with your smartphone to share with us later.
If you have ever been to a music festival, this one will definitely be magical in comparison. The show starts Saturday, September 27 and runs through Sunday the 28th. Tickets are available now AND you can SAVE $4 off a ticket by using code MOM4.
The code is good for All Shows but is NOT valid on Front Row/Floor Seats or VIP seats. Also, double discounts can not be applied. For more show information visit the Disney Live! Mickey's Music Festival webpage.
I was kindly offered the chance to use the tickets myself decided to offer them to you my readers, but even though I receive these benefits, I always give an opinion that is 100% mine.
I am a Feld Family Ambassador, and in exchange for my time and efforts in attending shows and reporting my opinions within this blog, as well as keeping you advised of the latest discount offers, Feld Entertainment has provided me with complimentary tickets to Feld shows and opportunities to attend private Feld pre-Show events.