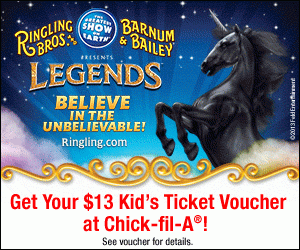 It's that time of the year already – and the Ringling Bros. and Barnum & Bailey presents LEGENDS will play the US Airways Center June 25 – 30, 2014. This is an exciting time for those of you love this family experience.
The Circus Athletes will perform their feats of daring, thrills of wonder in their celebration – with over 100 performers from 25 countries.
They will showcase more than 85 animals from almost every continent around the world with unique acts including the China National Acrobatic Troupe (where they will balance 20 people on two bicycles!), feature the largest display of hair hanging aerialists, and show introduce the Double Trapeze – and attempt 4 consecutive triple somersaults in a row.
Wouldn't that be amazing for your kiddos to see? I know mine would love it!
The Legendary Performance starts Wednesday, June 25th and runs through June 30th at US Airways Center, at 201 E. Jefferson Street in Phoenix.
Ticket prices range from $20 – $105 – or pick them up for just $15 on Opening Night (Select Seating Only – not valid on VIP or Premium Levels).
Should you wish to attend the performance, they have extended a special discount – save $5 off your ticket with code MOMSAVE. It's valid on ALL shows, but is not valid on Ringmaster Zone or VIP Seats.
As with most promotional offers, there are no double discounts.

AND, Ringling Bros. and Barnum & Bailey have also offered my readers the chance to win a family 4 pk of Tickets to the Legendary Show, on opening night – June 25th, at 7 p.m. – for your chance to enter, head over to Facebook. The giveaway runs through Thursday, June 19th at 8 p.m. MST.
Disclosure: I am a Feld Family Ambassador – and in exchange for my time & efforts in attending shows & reporting my opinion on this blog, as well as keeping you advised of the latest discount offers, Feld Entertainment has provided me with complimentary tickets to Feld shows & opportunities to attend private Feld pre-show events. Even though I receive these benefits, I always give an opinion that is 100% mine.