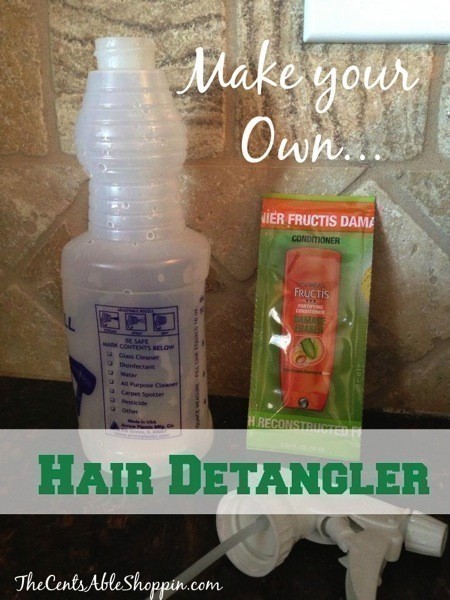 We are still getting ready to be back in the swing of things this week with school creeping up on us… if you have girls, chances are you probably fight with them to comb their hair. Or you fight with them when you comb their hair.
My daughter is almost 8, and last year we had to chop her hair, because she was not willing to do the work it required to be ready on time for school. After a year of having it just above her shoulders, she is eager to grow it back out long… I'm wondering how that will work this year but I guess we'll find out!
But with that comes the responsibility of doing her hair each day. Combing it is a challenge, for me and for her. We keep all the FREE samples we sign up for and use them to put together our own homemade detangled.
It's so easy, you won't ever buy it again at the store.
::: Grab a Plastic Spray Bottle (I got this at Walmart for $1)
::: Gather your FREE Conditioner Packets that you sign up for (each has 1 – 2 Tbsp of conditioner)
::: Squeeze the conditioner in the bottle – I use 1-2 packets per spray bottle
::: Fill the bottle with water, shake vigorously for 30 seconds to combine.
I help her comb her hair .. and we start by spraying with detangled prior to doing it in pigtails or ponytail – this works super for us.
And it's a great way to use all those extra packets you have at home.