Facebook rolled out a new feature quite some time ago and I realize now that it may have changed how many of you see my posts on your timelines. Someone probably mentioned this before, and I'm sorry, keeping up with grocery store matchups is a huge task. Huge.
So here's the deal. If you want to get the deals and free stuff on my Facebook page, before everyone else gets to them, you'll have to check something. You can see from the picture below what I am talking about. If you already "LIKE" my page, thank you! BUT – You'll have to click that "LIKE" button again and make sure there is a check box next to "Get Notifications" for you to see most of the stuff I post. You can even check the "Add to Interest Lists…" if you want but that's something a little different. I'd appreciate that too of course.
If you check and it is already checked. Awesome! I'd like to gauge as best possible how many of you were missing my posts, so let me know!
Thank you!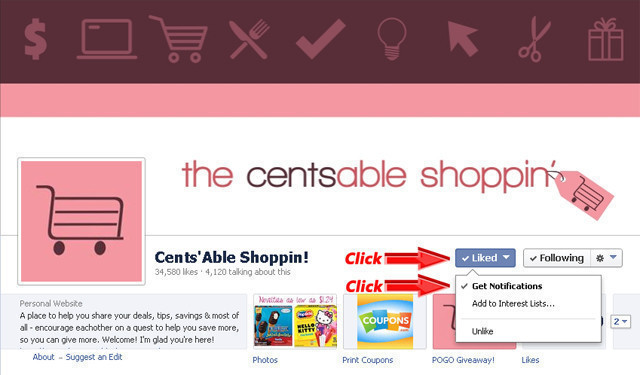 P.S. If you know someone who would benefit from my site, please invite them over!