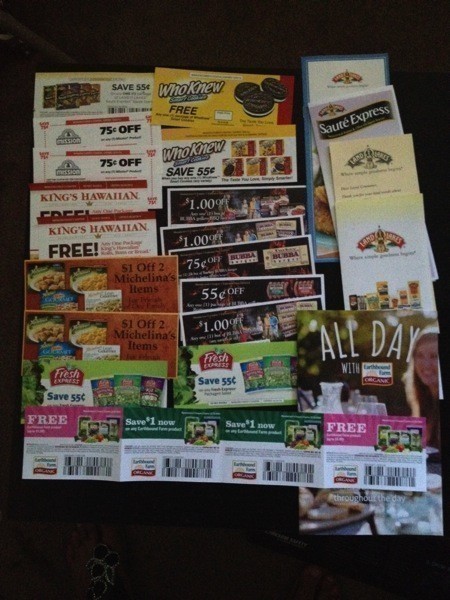 Over the last few weeks I have posted my efforts to write to companies to seek product coupons in response to giving them feedback. Some of you have taken the challenge as well – with positive results!
Julie is just one of several that continue to keep me updated on your progress – check out her mail from today – she was very fortunate! I also scored coupons today too – but my kids are playing with my phone so pictures will come tomorrow.
How are you doing? I went to check my mailbox today and I received responses from 8 companies! 8 out of 20 in 2 weeks, is not too bad in my opinion! Thank you for the motivation! I get so excited to see your weekly post!

King's Hawaiian

2 – FREE Any One Package of King's Hawaiian Rolls, Buns, or Bread up to $6.99

Fresh Express

2 – $0.55/1 off any Fresh Express Package Salad

Michelina

2 – $1/2 Michelina's Item

BUBBA Burger

7 – $1/1 Box of BUBBA Burger (any variety or size)

1 – $0.75/1 2lb box of Turkey BUBBA burger

2 – $0.55/1 Package of BUBBA grillers Bratwurst or Sausage (Mild or Hot)

2 – $1/1 Box of BUBBA grillers BBQ (any size)

WhoKnew Smart Cookies

1 – FREE any one package of WhoKnew Smart Cookies up to $3.99

1 – $0.55/1 WhoKnew Smart Cookies (any variety)

Land O Lakes Sauté Express

1 – $0.55/1 Land O Lakes Sauté Express Sauté Starter

1 – Saute Express brochure with different recipes for the different type of Sauté Express

1 – Brochure that lists all of the Land O Lakes Products

1 – Weekly Mealtime Quick and Easy Recipes Brochure

Earthbound Farms

2 – FREE Earthbound Farm Product up to $5.99

2 – $1/1 any Earthbound Farm Product

1 – Earthbound Farm Book with recipes that also contain two coupons

1 – $1/2 Earthbound Farm Products

1 – $0.75/1 Earthbound Farm Products

Mission

2 – $0.75/1 Mission Product

I am so excited to and am really motivated to keep writing companies! It really pays off!
See my previous posts and get started yourself by reading back here.
thanks, Julie!