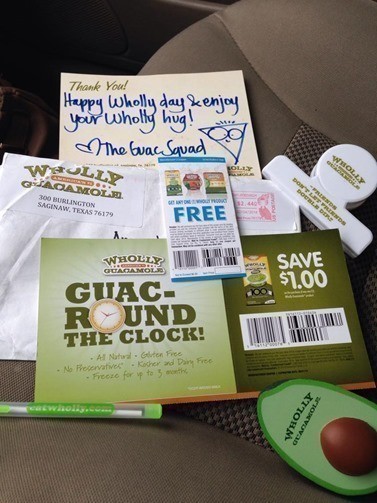 What a great deal Amanda got today in her mailbox!  When we write to companies we call it Coupons for Compliments – it's a great way to score coupons you wouldn't normally be able to get in your inserts!
Mail win Coupons for compliments!

After stocking up on Guacamole and Salsa (I'm obsessed with the salsa) I emailed them to tell them how great it was.

They told me they wanted to send me a "Wholly Hug" and then I got this today. $1/1 coupon, free product coupon, chip clip, pen, and a Styrofoam avocado (My daughter thought the avocado and note were so funny)
Should you wish to contact companies you can use this spreadsheet here–it's a clickable PDF – start at "A" and work your way down the list – you can write to them through their website, a few sentences is usually enough… let them know what you like or dislike about their product.
All it takes is a few quick sentences and you can hit "submit".  You may not succeed with all, many will respond favorably.
See past reader experience with Coupons for Compliments if you should wish to start writing – reading back here will give you some ideas on who you may want to reach out to first.
thanks, Amanda!